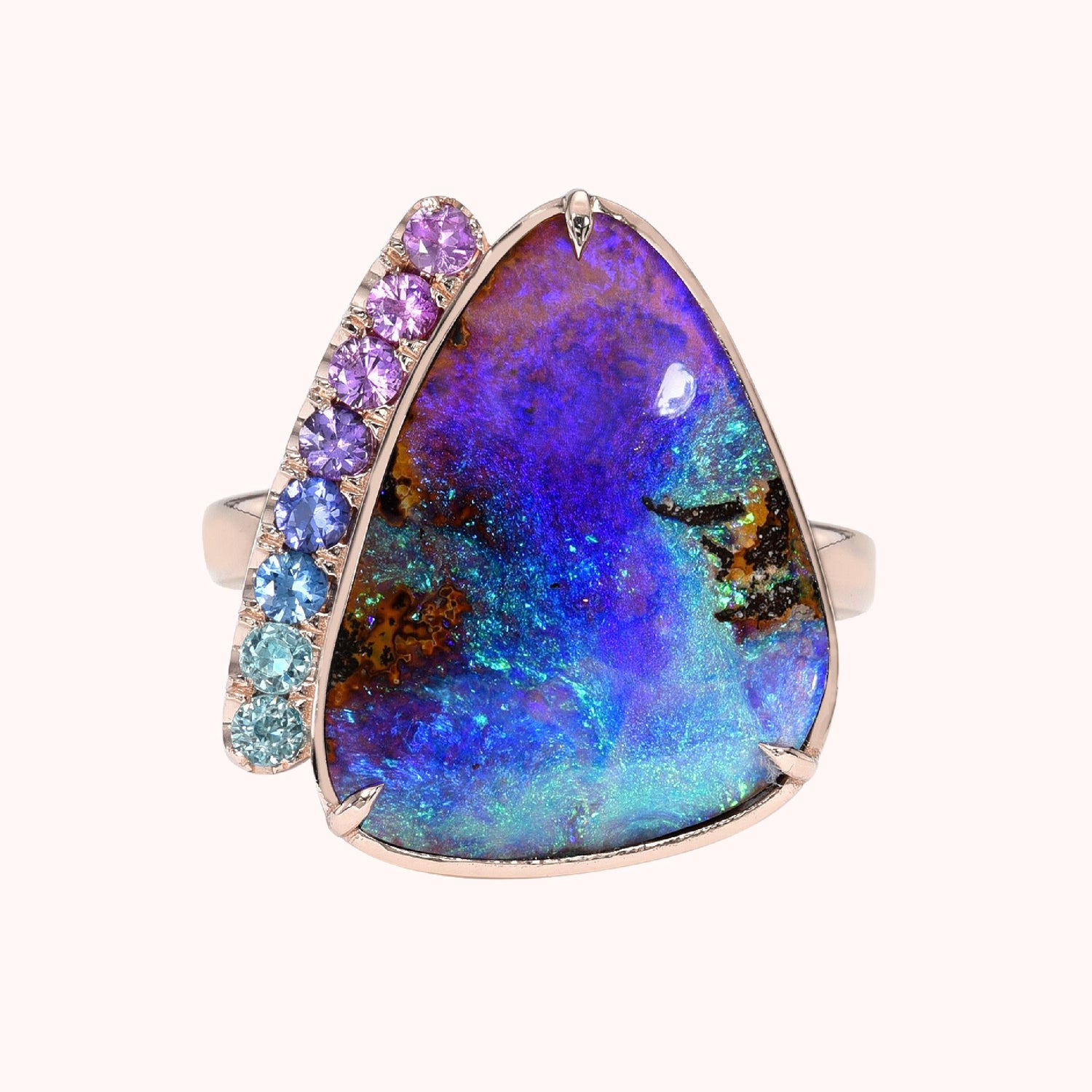 What is NIXIN Opal Ombré?
NIXIN Opal Ombré is one of our signature jewelry styles.
Nicki first sources Australian Opals that possess elusive color gradients.
Fusing these Opals with curated suites of sapphires, emeralds, tourmaline and more, she bridges the colors, blending hues between stones, and bending reality to awaken your imagination.
Extraordinary and rare, you'll know if a piece of this unique jewelry is meant for you.
check ready-to-ship for availability
Opal Ring FAQs
How do I know my ring size?

We recommend being sized by a professional at a local jewelry store. Ask them to size the finger you plan to wear the ring on. Sizers should be similar in shape and size to the ring you plan to purchase. We make all of our rings in US sizes and can adjust to any quarter size within the listed range.
Can you make international ring sizes?

There are often slight variations between conversion charts from one international size to another. For that reason, we do ask that you provide us with your US ring size when placing your order. We want to create a piece that fits you perfectly upon arrival.
Is the ring I want in stock?

If the ring you want appears in our Ready-to-Ship Section, then it is in stock. Most of our rings are one of a kind, so you may find your dream ring listed in various sizes (because we can resize it) but there is only one of that ring available.
Can your opal rings be reproduced?

Most of our opal rings cannot be reproduced because each piece is specially designed around the characteristics of the opal it holds. The unique nature of each piece of opal jewelry is part of what makes them so special.
Are opals a good choice for engagement rings?

Whether or not an opal is a good choice for your engagement ring depends greatly upon user wear and expectation. Opals are soft stones, so they may not be the best option for someone hard on their hands or likely to encounter force in their day to day.
How do I clean my opal ring?

We do not recommend using ultrasonic cleaners or chemical cleaning agents as they may damage some of our pieces and are known to release pave diamonds from their setting. Warm water, a mild dish soap and a soft bristle toothbrush are safe for Australian Opals.

We also offer a gentle cleaning agent on-site that is safe to use on most jewelry (including Australian Opals), though we always recommend testing a small area prior to doing a full cleaning. We offer a bottle version of our foaming NIXIN Jewelry Cleaner to handle your jewelry cleaning at home and a Jewelry Cleaning Pen you can fit in your purse and take with you wherever you go.