about NIXIN:
The most frequently asked question we get here at NIXIN Jewelry is:
"Where does the name NIXIN come from?"

Clearly, it draws on Nicki's name, and visually appeals to her minimalist aesthetic.
****NOTE: I'd like to insert the GREY NIXIN LOGO HERE****how? (if desired, can we make a video of it flipping forward/back, up/down to demonstrate palindrome & ambigram?)

But you may have also noticed, NIXIN is a palindrome – a word that is identical when spelled forward or backward.
Even more special, it's also an ambigram – it can be flipped upside down and remains unchanged. Very few words fulfill both distinctive criteria.

For Nicki, this pattern of a word cycling back into itself represents her own path in life — a recurrent return to her innate passions.

(Although, if you ask her friend Dave, he'll tell you NIXIN was his nickname for her in college.)
Want more inside scoop?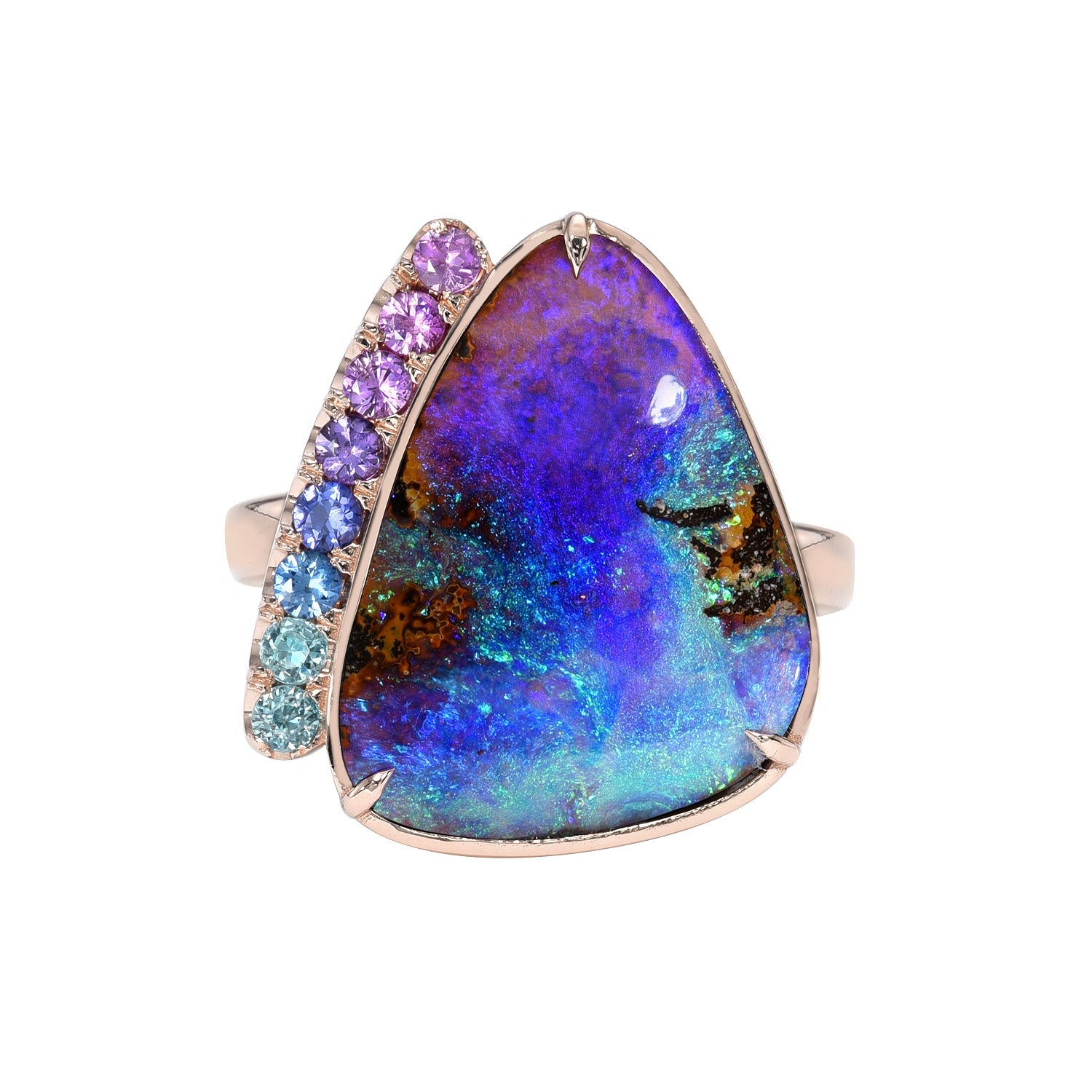 NIXIN: Company Credo
The most treasured jewelry we own forever links us to our memories, tells our stories and evokes our emotions. Here at NIXIN Jewelry, we believe that begins with selecting exceptional One of a Kind stones; stones that resonate so deeply you see them in your dreams. So that's what we do - source the extraordinary. We are the architects of their homes and the narrators of their stories, and when you connect with one of our pieces you just know.

NIXIN Jewelry ~ A small business with a big heart, and a Minor Opal Obsession.
Come find your One of a Kind ✨
about NICKI
About NICKI
As a young girl, Nicki spent countless hours collecting beads and sequins that had fallen off the inventory and onto the floor of "Mimi & Natalie," her Grandmother's Women's Accessories store in Rockville Center, New York. These findings were her earliest treasures that she would transform into beloved pieces of jewelry.

Over time, this passion for creating evolved, as did her use of materials. From beadwork and wire wrapping to cast metals and set gemstones, she took classes to learn new techniques that piqued her curiosity. Of particular interest was the lost wax technique; she found dripping wax into positive forms and then carving it away into the shapes of her ideas to be indescribably rewarding.

Her favorite part of the creation process is searching for fantastical gemstones; they're the heart of the piece. She designs with the philosophy that the best settings will enhance the stone's beauty without detracting from it. Nicki believes that the subtleties of a design are critical, so she embraces the special details — nuance is everything.

While she works with a variety of gemstones, Australian Opals are her favorite to create with.
"The excitement unfolds in the gemstone discovery process — not knowing what I'm going to find, and then exploring the possibilities of the unearthed. Each Opal is distinct, in a way unlike any other gem. They ignite my imagination and inspire the stories I weave around each extraordinary stone."

Nicki currently lives in Los Angeles with her husband and two children, and wears a storied ring she once made for her grandmother. It's based on an experience they shared and says, "With all my love, in one fell swoop."
• sharks • opals • brother-p-touch • tamago • ombré •
• soccer • succulents • muji • SALT • typography • Nutella • asymmetry •
• early morning runs • lattes • peonies in newsprint • go karts • sloths • art deco •
• groundlings •puppies • st. john • axe throwing • kindness •
• family •
• sharks • early dismissal • kombucha •